The Big Bone Lick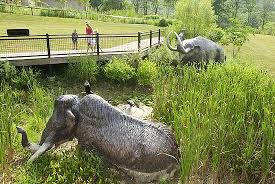 Since the days of Lewis and Clarke, Kentuckians have been in awe of the large animal bones discovered in Big bone Lick State Park in Union, Kentucky. The belief is that during the last great Ice Age that enmormous herds of herbivorous animals existed in the vicinity. According to park experts, the mammoth and the mastodon were among the animals to visit the Lick. Later, ancestors of the sloth, bison and horse came to the salty soil and vegetation around springs. From the excavations there, animals became mired in the bogs and died in the wet, marshy land. The Delaware and Shawnee Indians were quite familiar with the bones of the animals in the Ohio Valley and collected the salt. Later, the Europeans learned of Big Bone Lick from the Indians. The first remembered European to visit this site was a French Canadian, de Longueil, in 1739. In fact, a Louisiana map dated 1744, marks the lick as the place where they found the elephant bones in 1739. In 1744, an American Indian trader by the name of Robert Smith removed some of the fossil bones. And, The first map of Kentucky, prepared by John Filson in 1784, bore on the legend: "Big Bone Lick; Salt and Medical Spring. Large bones are found there." Later on in 1803, when Meriwether Lewis traveled to Big Bone Lick en route west to join William Clark and the men assembling in Louisville for the Corps of Discovery, he sent a box of specimens to President Jefferson, along with an extremely detailed letter describing the finds of Goforth. President Jefferson devoted much time to the study of Big Bone Lick and believed that some of the large animals might still be living in the western regions of the country. In 1807, the present sent Clark to Big Bone Lick for the first organized vertebra paleontology expedition in the United States. During the three weeks that Clark was there, he hired laborers to collect bones and shipped three huge boxes to the President. Jefferson maintained a room in the White House for the display of the Big Bone collection.
Find your Kentucky Ancestors
Includes Genealogy Records in Alabama, Georgia, Kentucky, North Carolina, South Carolina, Tennessee and Virginia.

1-year subscription - $150

Note: This subscription renews itself annually. When you are ready to cancel, to avoid further fees, please cancel (online) with Paypal in advance of the renewal date.