Gallatin County Wills, Estates, Inventories, Distributions, Guardianships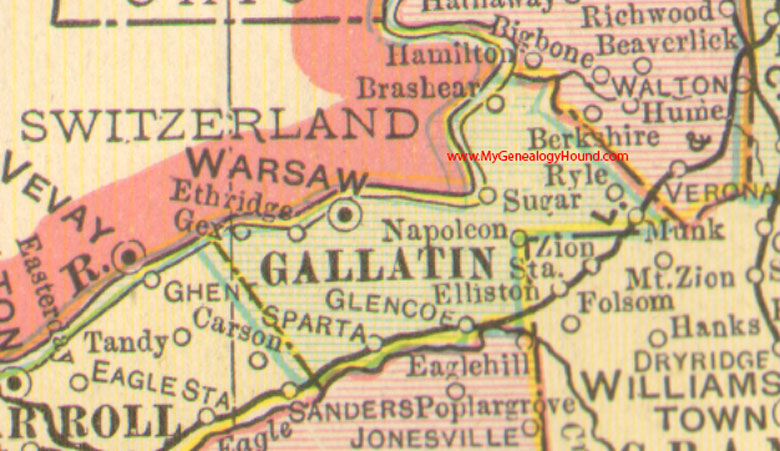 Gallatin was founded in 1798 and named for Albert Gallatin, the Secretary of the Treasury under President Thomas Jefferson. It was derived from parts of Franklin and Shelby counties. Later, parts of the county were pared off to create three additional counties, viz: Owen in 1819, Trimble in 1836 and Carroll in 1838.
Indexes to Wills, Estates, Guardianships, Distributions, Inventories
1800 to 1819
1817 to 1823
Images of Will Book A, 1800 to 1819
Note: This Will Book has been restored; however, most images remain unreadable. In addition to these images, please use the index to determine if your ancestor had an estate, then contact the county court house for copies.
Calnut, Phillip
Campbell, Archibald
Campbell, John
Colen, Jacob
Crawford, John
Davis, John
Edmondson, Philip
Edmondson, Robert
Gaunt, Sarah
Gray, Radford
Holiday, Joseph
James, John
Jordan, John
Kelley, M.
King, William
Landers, John
McNair, Charles
Metter, James
Neely, Samuel
Sayres, Thomas
Smith, George
Smith, James
Smith, Jonathan
Smith, Josiah
Sneed, Benjamin
Spruell, James Sr.
Stafford, Henry
Stafford, orphans
Taylor, Abraham
Whitehead, Richard
Whitehead, William
Williams, William
Williamson, Joseph
Find your Kentucky Ancestors
SUBSCRIBE HERE