About Simon Kenton
By Jeannette Holland Austin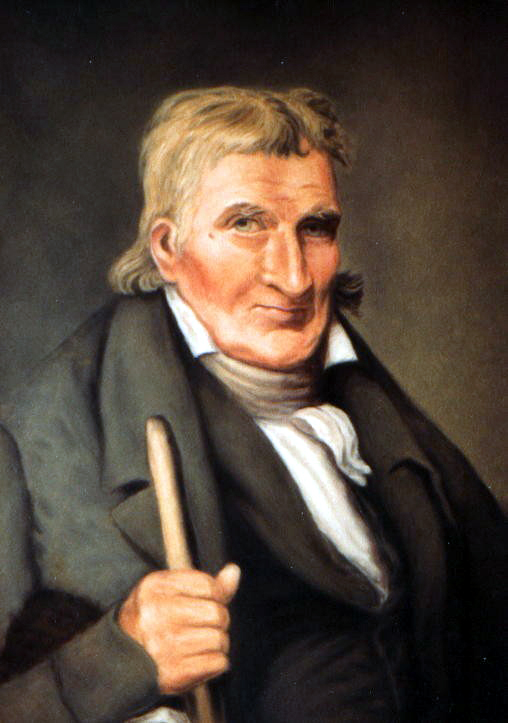 Among the hardy backwoodsmen, fearless hunters, and brave fighters, there looms no nobler figure than that of Simon Kenton, born of humble, Scotch-Irish parents in Virginia, April 13, 1755. When he was sixteen years he fell in love with a beautiful girl of his neighborhood, and having lost her to a successful rival, attended the wedding as an uninvited guest. His disagreeable actions infuriated groom and his brothers gave him a severe beating. Shortly afterwards, he provoked a fight with his former rival, William Veach. Kenton was physically superior and soon his adversary fell bruised, bleeding, and unconscious. But Kenton was also kind-hearted Kenton and, feeling that he had been cruel in his treatment, lifted up the head of his insensible victim, spoke to him, but receiving no reply, thought him dead. Much alarmed, he ran into the woods, thinking that Veach was dead. Thinking himself a murderer and a fugitive from justice, he warily made his way to Cheat River where he changed his name to Simon Butler, and worked long enough to secure a gun and ammunition. Then, he joined a party going to Fort Pitt, where he hunted for the garrison and forts, and met Simon Girty, who afterwards saved his life. Then he joined with George Yeager and John Strader to visit the "cane lands" down the Ohio River to the mouth of the Kentucky River. They returned to the Big Kanawha where they camped, hunted, and trapped until March of 1773. Yeager was killed by the Indians, and Kenton and Strader fled to the woods barefooted and almost naked, with no food and no weapons. For six days they wandered weary, footsore, and hungry, until finally in despair they lay down to die. Gathering hope anew, they pressed on and near the Ohio met some hunters who gladly gave them food and clothing. Then, Kenton joined up with a rifle company going down the Ohio River with a party to search for Captain Bullitt. They failed to find him and the party returned through the wilds of Kentucky to Virginia with Kenton as guide. During the winter of 1773-1774, Kenton hunted on the Big Sandy, but volunteered and soon saw active service as a scout and spy in the armies of Lord Dunmore and General Lewis in the Miami Indian War. He received an honorable discharge in the autumn, and the next spring, yielding to the longing for the "cane land," he went down the Ohio and one night reached Cabin Creek a few miles above Maysville. The next day, when he beheld the far-famed land, he was entranced, and soon encamped near the present site of Washington, in Mason County, where he and his companion cleared an acre of ground and planted it with corn which they had bought from a French trader. It was in the hills of Mason County that they found a veritable "hunter's paradise" in herds of deer, elk and buffalo. Although Kenton left this place the following autumn, he returned nine years later and, building a blockhouse here, established Kenton's Station. Source: Stories of Old Kentucky by Martha Grassham Purcell.
Find your ancestors on Kentucky Pioneers
Learn if your ancestors left a will or estate record? An easy, quick (and free) way to find out is to click on the links below.

County Records of 8 Genealogy Websites
Alabama
Georgia
Kentucky
North Carolina
Virginia
South Carolina
Tennessee
Become a Member
GeorgiaPioneers.com
KentuckyPioneers.com
NorthCarolinaPioneers.com
SouthCarolinaPioneers.net
VirginiaPioneers.net
Genealogy-Books.com
GaGraduates.com (Graduates database from ca 1830 to 1925)
SoutheasternGenealogy.com (Miscellaneous records in AL, LA, MD, PA, NJ
NY, TN, TX)