Cumberland County was created in 1798 from land in Green County and was named after the Cumberland River. The county seat is Burkesville.

Images of Wills, Estates, Appraisements, Inventories, Guardianships 1815-1831

Alexander, John | Akins, Joseph | Appleby, Robert | Armstrong, John | Armstrong, Stephen

Baker, John | Baker, John Jr. | Baker, Martin | Ball, William | Beck, Edward | Bickerstaff, Samuel | Bickerstaff, Samuel Sr. | Bickerstaff, Samuel Jr. | Blakey, William | Bledsoe, John | Blankenship, Abel | Bond, Hopkins | Bowman, Daniel | Bowman, Pleasant | Brummal, Chastian

Campbell, William | Cary, Wilson | Chamberlin, William | Chandler, John | Chandler, Thomas | Clarry, Samuel | Cory, Edward | Conner, Lawrence |Cowen, William | Craig, William | Creech, Jesse | Crouch, Elijah

Daning, James | Daugherty, Charles | Davis, John | de Graffenreid, Francis | de Graffenreid, Tabitha | Dougherty, Joseph

Elliott, Samuel | Elliott, Thomas | Ellison, Amos | Emerson, Francis | English, Benjamin | Evans, Leroy

Ferrill, William | Fletcher, Fanny | Flowers, Edward | Ford, William | Forsnaught, John | Frogg, William

Galbraith, Robert | Gee, James | Gee, Jesse | Goodson, William | Green, George | Groce, Henry | Guthery, Adam

Haggard, Rice | Hall, Joseph | Harvey, John | Haygood, Robert |Hays, William Sr. | Hibbits, William | Hill, Archibald | Hill, Barber |Hillis, John | Hix, Richard | Hopkins, Arthur | Hopkins, William | Howard, James | Howard, Reubin |Howard, Robert S. | Hunter, John

Irwin, John | Jacob, Patrick | Johnston, Joseph | Johnston, Michael | Johnston, Thomas

Keen, Samson | King, John E. | King, Milton | King, William | Lafferty, Alexander | Lafferty, Samuel | Lafferty, Sarah | Lloyd, Willis

Martin, David | Mays, William | Maxwell, N. | McColly, Cornelius | Miller, Richard A. | Millon, Christopher | Murphy, James

Newby, Martin | Noland, James | Norris, Zebulon | Pace, John | Page, John | Philpot, Zachariah | Pickens, Joseph | Pickens, Thomas

Ray, Nathaniel | Reynolds, George | Ritchey, Elizabeth | Robertson, Arhur | Robertson, Walthall | Robinson, George H. | Rowland, Elizabeth | Rowland, George | Rowland, Gilbert | Rowland, John | Rutledge, Joseph

Sackman, Thomas | Sandusky, Jacob | Sevier, Archibald | Simple, John |Simple, John W. | Simpson, Joseph | Simpson, Thomas | Smith, Nathaniel |Smith, William | Spearman, Susannah | Spearman, Thomas | Sprouell, James | Stanfield, John | Stephens, Delilah (now King) | Stephens, Peter | Stockton, Ichabod | Stockton, John | Stockton, Nancy | Stockton, Polly | Stockton, Robert | Strong, John

Talbott, Nicholas | Talley, Sally | Tally, Nathaniel | Taylor, Edmund | Taylor, Edward | Thurman, Nathan | Trice, Tandy H. | Vaner, Henry

Wade, Ballenger | Wash, Thomas | Welch, David | Whitlock, Thomas | Wilbourn, Thomas | Wiles, Susan, orphan | Willian, William | Wisdom, Francis | Wiseman, William | Wooley, Oliver | Young, James

Indexes to Wills, Appraisements, Inventories, Estates, Guardianships

1815 to 1831
1830 to 1841

Images of Wills, Appraisements, Inventories, Estates, Guardianships 1830 to 1841

Aikin, Judith | Akin, James | Alexander, John | Alexander, Philip | Anderson, William

Baker, Elam | Baker, James Sr. | Baker, John | Baker, John W. | Baker, Obediah | Baker, Susan | Baker, Thomas | Baker, William | Bartran, Thomas | Bledsoe, Benjamin J. |Bone, Nathaniel | Bouldin, Thomas | Boynter, James | Bristow, William | Brock, James | Brummall, Robert | Buford, Preston | Burchett, John

Cain, Thomas | Carter, Charles | Carter, Joseph | Carter, Josiah | Carter, Samuel | Carter, William | Cary, Beverly | Cary, Harrison | Cary, William | Caswell, John |Cheatham, Owen | Clark, James | Claywell, John | Claywell, Shadrick Sr. | Cloyd, James | Craven, Robert | Creasey, Dan | Creasey, John | Crockett, Robert

Daniel, Drucilla | Daniel, Martin | Ellington, Albert | Ellington, Hezekiah | Ellington, Jesse | Embry, Elisha

Farish, George | Fearson, William | Ferrel, Harden | Fergress, James | Flowers, Elisha | Flowers, Susanna | Fudge, George | Fudge, John

Garman, George | Garman, Harman | Garnett, Robert | Garnett, William | Gearhart, Peter | Gibson, John | Green, George | Green, Lucy | Grider, Martin

Haggard, Benjamin | Haggard, Elizabeth | Haggard, James | Haggard, Levi | Haggard, Rice | Harrance, James | Harvey, Wilson | Heard, James | Hiard, William R. |Hill, Lucinda | Holt, Doswell | Hopkins, John | Howard, Reubin B. | Hugart, Eli

Jones, Charles | Laferly, Samuel | Lawson, Philip | Logan, James | Long, Solomon | Long, Thomas | Loyd, Willis

McGee, Jacob | McNealy, Esther | Miller, Jubal |Montfort, Peter | Morgan, Morgan | Murphy, Clement | Murphy, Francis

Norris, Nathan | Norris, Waller | Nunn, Elizabeth | Nunn, Thomas | O'Banion, William | Pearson, William | Phares, Charles | Phares, Samuel Jr. | Philpot, John H. | Philpott, Perry

Radford, James | Richardson, George | Ritchey, Samuel | Rowe, Samuel S. | Rowland, Elizabeth | Rowland, George W. | Rowland, Gilbert

Sams, Gentry | Sam, James | Scott, Clement | Scott, Jacob | Semple, Adaline | Sewell, Joseph | Shuman, John R. | Simmerman, Ahart | Simmerman, Henry | Slaton, Joseph | Smiley, Daniel | Smith, Elizabeth | Smith, Jesse | Smith, Moses | Smith, Nathaniel | Smith, William | Spencer, Nancy | Spencer, Thomas | Stockton, Robert | Stockton, William A.

Talbott, M. H. | Taylor, Isaac | Thomas, John | Thurman, John | Thurman, William | Vaughan, Axiom | Vaughn, Harriett | Vincent, Ethan

Wakefield, Thomas | Walthall, William A. | Warinnger, Iverson | Wash, Lucy Vining | Wash, Thomas | Williams, Daniel | Williams, Martha | Williams, Martin

Shawnees During the Revolutionary War
By Jeannette Holland Austin
The battles of the Revolutionary War did not always involve Redcoats. The British engaged many Indian tribes to engage the patriots in battle. For this reason, Lawrence Conner enlisted in the Virginia Company of Captain Arbuckle for two years to go on an expedition against the Shawnee Indians.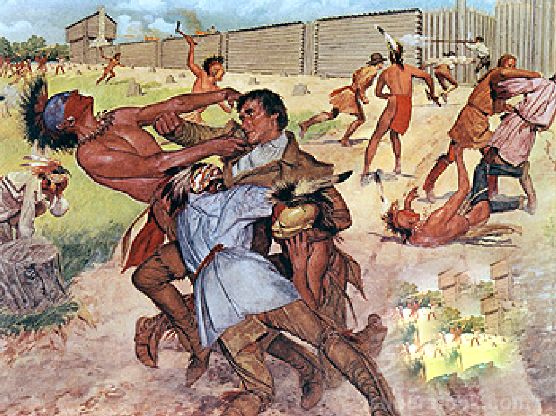 Before the first enlistment ended, he re-enlisted for three years, serving as a private in the company of Catain Andrew Wallace, 12th Virginia Regiment. He fought in the battles of Germantown, Monmouth, Stony War and Camden. Because of the wounds which he received at Camden and also during the battle of Guilford Court House, in 1789 he was sent home in Botetourt County, Virginia. Later he removed to Cumberland County, Kentucky where he died in 1828.
A depiction of Shawnee Indians attacking Daniel Boone.
Learn if your ancestors left a will or estate record? An easy, quick (and free) way to find out is to click on the links below.

County Records of 8 Genealogy Websites
Alabama
Georgia
Kentucky
North Carolina
Virginia
South Carolina
Tennessee
Become a Member
GeorgiaPioneers.com
KentuckyPioneers.com
NorthCarolinaPioneers.com
SouthCarolinaPioneers.net
VirginiaPioneers.net
Genealogy-Books.com
GaGraduates.com (Graduates database from ca 1830 to 1925)
SoutheasternGenealogy.com (Miscellaneous records in AL, LA, MD, PA, NJ
NY, TN, TX)

BUNDLE RATE for 8. Access to all eight websites plus additional data in other States: Bibles, genealogies, civil war records, colonial records, marriages, wills, estates, special collections, books written by renowned Georgia genealogist Jeannette Holland Austin.
Membership to 8 Genealogy Websites - Reoccurring subscription with guaranteed low rate
REOCCURRING SUBSCRIPTION WITH PAYPAL = $150 per year. Guaranteed low rate so long as your subscription continues to renew itself. You may unsubscribe at any time, however, to prevent the reoccurring charge, you must "cancel" before the renewal date. To do this, login to your PayPal account and select the cancel option.
About your password. Please allow up to 2 hours for your password. If not received in a timely manner, click to send reminder
FIND YOUR KENTUCKY ANCESTORS NOW!