Bell County Genealogy, Wills and Probate Records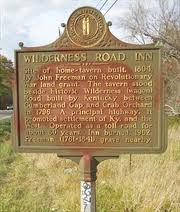 Bell County was formed in 1867 from parts of Knox and Harlan Counties and was annexed from Knox County in 1872. It was named after Joshua Fry Bell ("Josh Bell"). The Wilderness Road was built through Bell County during the 1790s.There were court house fires in 1914 and again in 1918 and a flood in 1976 during which occurrences the records were destroyed. The records listed below are those which survived.
Bell County Probate Records available to members of
Kentucky Pioneers
Digital Images of Bell County Wills and Estates, 1869 to 1879
Arnet, Elias
Arthur, Zack
Campbell, Archibald
Davis, Preston
Goodin, Hardin
Hutchins, John
Lane, Samuel
Lock, Alexander
Parsons, John

Become a member now!