Daviess County, Kentucky Court House Records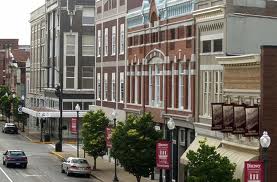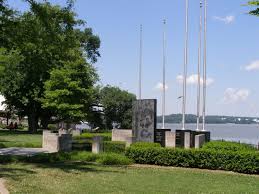 Pictured is Owensboro and the bridge across the Ohio River. Daviess County was formed from part of Ohio County in 1815 and was named for Abraham Owen, a Colonel who was killed at the Battle of Tippecanoe. The borders of the county were altered in 1829 to form Hancock County in order to absorb a small area surrounding Whitesville, and again in 1854 to cede land to McLean County. Then, in 1860 it annexed forty-four square miles from Henderson County.
The county seat is Owensboro.
Apparently there was a loss of records from about 1815 to 1842 when certain last wills and testaments were destroyed. Those listed below were recovered.
Daviess County Probate Records available to members of
Kentucky Pioneers
Digital Images of Daviess County Wills and Estates, 1812 to 1872 - Destroyed documents refiled-
Testators: Allen, Robert | Allen, William | Anderson, Dangerfield | Ashby, Houston | Austin, Francis | Baird, William | Banks, C. R. | Barker, Elizabeth | Bassett, Abner | Beauchamp, William | Bell, Harvey | Bell, Richard | Bell, William | Bingham, Thomas | Brand, John | Bristow, Jasper | Brooks, Isham | Bunn, William | Burten, Bassett | Carr, William | Cassaday, Joseph | Chilton, Joseph | Clay, Thomas | Conway, F. F. | Cooms, William | Crabtree, Isaac | Curry, Peter | Curry, William | Dade, Lawson| Daniel, William | Davies, Baster | Davis, Baxter | Davis, Jacob | Davis, James | Decker, Christopher | Dulany, Eliza | Duncan, Benjamin | Duncan, Charles | Easter, Littleton | Faith, William | Fenwick, Ignatius | Flynn, Eugene | Foley, John | Ford, Jesse | Ford, John | Ford, Rachel | Griffith, Joshua | Griffith, Remus | Griffith, W. R. | Hagan, Silvester | Hansford, Stephen | Harris, William | Hawes, Albert | Hawes, Charles | Hawes, Richard | Hayden, Philip | Haynes, William | Head, Henry | Herd, George | Higdon, Thomas Sr. | Hobbs, Horatio | Howard, Groves | Howard, Mark | Howard, William | Huston, James | Huston, Mary | Huston, William | Jackson, George | Johnson, Archer | Johnson, James M. | Johnson, Susan | Jones, Hannah | Kelley, George | Kennady, Samuel Dyson | Kirkhead, Wesley | Knott, James | Knott, Mary | Lanham, William | Lashbrook, John | Lashbrook, Malinda | Law, William | Lee, John | Little, George | Little, Jonas | Lumpkin, Thomas | Lumpkin, William | Masser, Mary | May, John | McCormick, John | McCrury, Elijah | McDaniel, James | McFarlane, Franky | McFarlane, John | McFarlane, Lucy | Millay, James | Millay, Thomas | Miller, Nancy | Miller, William | Mitchell, Gideon | Montgomery, Thomas F. | Mosley, Samuel | Mosley, Thomas | Moyers, Abraham | Newlett, George | Newton, Benjamin Newton, William | Nunn, Richard | Overly, William | Owen, Preston | Payne, Cornelius | Payne, John | Peterson, John | Pitts, Jesse | Priest, Henry | Rafferty, James | Riley, Cynthia | Riley, George | Roberts, William | Scott, George | Sharpe, William | Shaunter, John | Shoemaker, Adam | Shoemaker, Price | Smathers, James | Smith, Peter | Stanley, Henry | Stowers, William | Talbutt, Joshua | Tapscott, William | Thomason, Martha | Thompson, Anthony | Turpin, William | Vanrysselburghe, James | Walker, John | Walston, William | Ware, John | Wedding, Thomas | Wells, Jacob | White, Henry | White, Rebeckah | Williams, Elisha | Williams, Raleigh | Worthington, William |
Find your Kentucky Ancestors