Hickman County Probate Records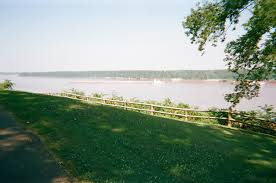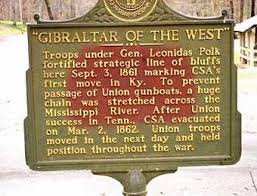 Pictured is the Mississippi River from the bluffs of Columbus, Kentucky and the marker signifying the site where General Polk fortified a site along the Mississippi River against the Union forces during the War Between the States. For this reason the site was called the Gibralter of the West. Hickman County was founded in 1822 and named after Captain Paschal Hickman of the 1st Rifle Regiment, Kentucky Militia. While he was a resident of Franklin County, Kentucky he was wounded and captured at the Battle of Frenchtown in January of 1813 and killed by Indians in the Massacre of the River Raison. The first county seat was Columbus, Kentucky where a court house was built in 1823. In 1830 the county seat was removed to Clinton, Kentucky.
Hickman County Probate Records available to members of Kentucky PioneersMiscellaneous Wills and Estates
Baker, Benjamin
Baker, Glover
Barner, Francis
Brown, Joseph
Bucklar, Cornelius
Crafton, Robert
Gamble, Joseph
Gregory, Jeremiah
Hargraves, Thomas
Irvine, Caleb
Masters, Abner
McGuffin, Joseph
Morris, Thomas
Ray, Joseph
Robinson, Smith
Shields, Samuel
Virteyard, John
Subscribe to 8 Genealogy Websites - $99.00 for 6 months!
Save Everyone needs to research more than one State for ancestors. Give these records the opportunity to help you by subscribing at the lowest possible rate. Login from same page using the same password. Do not worry about getting recharged as there is a reliable automatic expiration.
GeorgiaPioneers.com
KentuckyPioneers.com
NorthCarolinaPioneers.com
SouthCarolinaPioneers.net
VirginiaPioneers.net
Genealogy-Books.com
GaGraduates.com (Graduates database from ca 1830 to 1925)
SoutheasternGenealogy.com (Digitized Wills in counties of: Carter 1794-1830; Jefferson 1802-1810;Johnson 1839-1900;Unicoi 1878-1887; Washington 1779-1800)